Discover Heckel MACSOLE® ADVENTURE 3.0 BOA SERIES
2023-09-12
Heckel proudly introduces the MACSOLE® ADVENTURE 3.0 BOA series, a revolutionary approach to safety shoes for the industrial and construction industries. These safety shoes are designed to meet the demanding needs of outdoor work environments and are specifically tailored to different settings.
High energy absorption for increased safety
The MACSOLE® ADVENTURE 3.0 BOA series provides an impressive 85% higher energy absorption than what is prescribed by the EN ISO 20345:2022 standard. This means increased protection for your feet with energy absorption in Joules [J] that exceeds expectations.
Advanced Support and Protection
These safety shoes offer a unique combination of technologies to ensure your comfort and safety. With EVA inserts both at the front and back, they utilize MACABSORB technology to limit shocks and enhance foot support. Furthermore, the agile ankleguard provides increased ankle stability and reduces the risk of sprains.
Toe protection that lasts
The MACSOLE® ADVENTURE 3.0 BOA series features rubber toe protection, known as the SC marking. This directly integrated rubber area is highly resistant to wear, significantly extending the lifespan of the shoes. Making them ideal for individuals who frequently work on their knees.
Durability and Comfort
Heckel safety shoes in the MACSOLE® ADVENTURE 3.0 BOA series are equipped with a durable technology that follows the natural rolling motion of the foot. Deep spikes with sharp edges provide excellent grip, even on uneven terrain. The MACSOLE® technology, based on nitrile rubber, offers exceptional safety and durability, even in extreme conditions.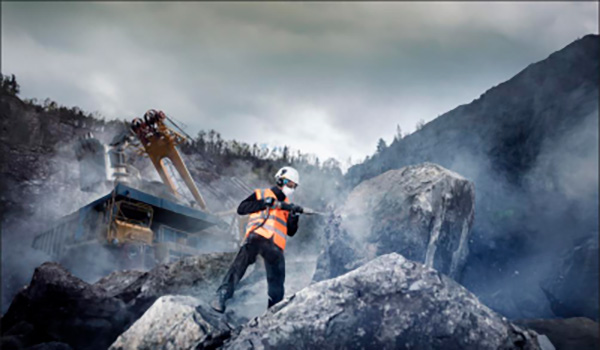 Thermal Resistance and Durability
The safety shoes have excellent thermal resistance, thanks to MACSOLE® rubber. It can withstand direct contact with heat up to 300°C and meets HRO standards. This, combined with the unique rubber compound, provides unparalleled resistance to wear and extends the product's lifespan.
Versatile Use and Superior Grip
The MACSOLE® rubber soles are extremely versatile and provide outstanding grip according to the EN 13287 standard. The natural elastic properties of rubber also offer long-lasting cushioning, reducing fatigue for those who have to walk or stand for extended periods.
BOA® Fit System for precise adjustment
The Heckels MACSOLE® ADVENTURE 3.0 BOA series features the innovative BOA® Fit System for quick, easy, and precise adjustment. This system allows you to customize the fit effortlessly, so you can focus on your work. The lightweight and durable laces provide comfort and performance, while low-friction lace guides ensure a smooth closure.
GORE-TEX technology for comfort in all weather conditions
Some models in the Heckel series, such as the Safety Shoe Heckel Macsole 6739/3, are equipped with the GORE-TEX membrane, providing breathability while protecting against rain. The result is dry feet in all conditions for optimal comfort.