Important to know about hearing protection
Hearing is one of your most important senses, and we want to guide you on how to best protect your hearing while at work. First and foremost, 100% usage is required, and to want to wear hearing protection for a full workday, they must fit comfortably and make you feel satisfied and comfortable.
Old, stiff, and/or worn sealing rings reduce the earmuff's damping ability. The noise "leaks" in. Therefore, regularly replace the sealing rings to maintain the earmuff's performance and lifespan.
Keep in mind that:
It costs at least 10 times more to rehabilitate a hearing-impaired person than to prevent the damage.
Noise is in one way similar to radioactive radiation, we can only tolerate a limited dose every day.
The size of the noise dose depends on the time and sound level.
It is the hearing cells deep in the ear that are damaged and they can never heal, the damage becomes permanent.
A comfortable protection, adapted to the noise level you are in, is the best guarantee that you will use the hearing protection 100% of the work time, and thus get a safe protection against lasting hearing damage.
Another important aspect to encourage 100% wearing time is that you should have hearing protection that allows you to communicate with your surroundings in the best possible way.

Things to consider when choosing hearing protection
The choice of hearing protection is made with a few different parameters:
Comfort of the protection
Usage area
What noise you need to protect yourself against. The attenuation should not be too high or too low.
First, acquire information about the noise character when choosing hearing protection to be able to choose the right protection level as safely as possible.
Information that must be obtained includes:
Sound pressure level (dB)
Duration
Frequency content (Hz)
Any elements of impulse noise
Additional factors to consider when choosing hearing protection:
Even in noise with relatively low sound levels, around 75-80 dB(A), it may be justified that you use hearing protection. This is because particularly sensitive individuals may risk hearing damage even at lower levels than the upper action values. Use at these lower levels may also be relevant if you are simultaneously exposed to ototoxic substances or to noise and vibrations.
Ototoxic substances are chemical substances that, when inhaled or exposed to the skin, can damage or alter the inner ear or auditory nerve function or structure, thereby causing acute or chronic hearing loss and/or balance problems.
That the hearing protection offers good comfort is naturally important, as is getting the right attenuation level and finding a hearing protection that suits you in your work. Hair and sideburns can cause noise to leak in and thus negatively affect the attenuation value.

Considerations when combining with other personal protective equipment
When combining hearing protection with other personal protective equipment, it is important that the hearing protection's attenuation is not reduced due to the combination.
The hearing protection should be worn under protective clothing and hoods.
When using respiratory protection, it is important that the respiratory protection's straps do not obstruct the sealing rings of the earmuffs from sealing against the skin.
Eyeglass frames can dramatically reduce the attenuation ability. To avoid this, it is important to choose glasses of the correct size and with thin frames.
When it comes to hearing protection for attachment to a safety helmet, always choose combinations that are specifically tested and approved together. See our certified combinations of ear muffs and helmets.
When using a face shield, it is important that the shield fits with other equipment and does not come into contact with any part of the earmuffs.
Replacement of hygiene rings
To maintain optimal protection from harmful noise, the hygiene kit of the hearing protection needs to be replaced before the sealing rings become hard or cracked.
A hygiene kit consists of damping foam and sealing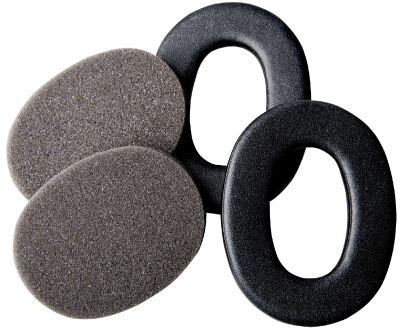 We recommend replacing the hygiene kit twice a year for hearing protection that is used daily.
See the list of 3M Peltor's hearing protection and hygiene kits.